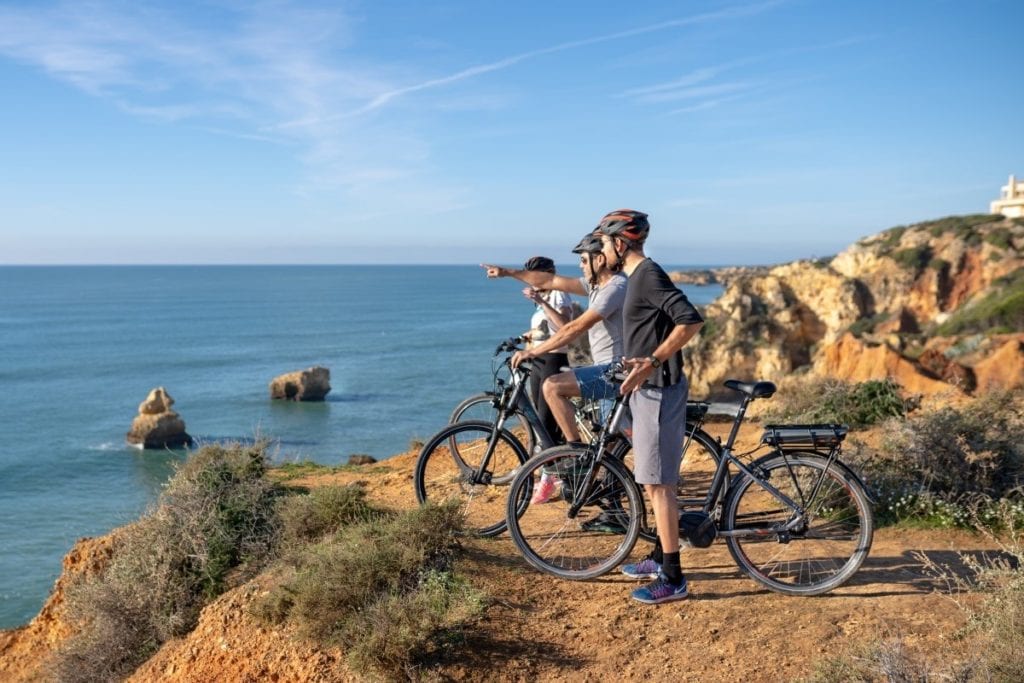 Southern Coast Cycling Tour (Spring 2022)
February 23 – March 6, 2022
This tour takes place within two protected areas along the coast from Alentejo to Algarve, meandering through authentic fishing villages along the sea. Imagine yourself riding by some of the most beautiful and well-preserved beaches in Europe. Now add the feeling of adventure when discovering pirate hideouts, a rich culture and a cuisine that serves the best the sea has to offer. The coast, characterized by turquoise waters, rugged rocks and stratified cliff faces buffeted by coastal winds for centuries, is perfect for exciting cycling!
Check out the full description below!
Overview
Description
Itinerary
Tour Info
RATING SYSTEM: Level 3-4 (rating system info)
DURATION: 12 DAYS /11 NIGHTS
Region: Southern Coast
ACCOMMODATION: 3-4 star hotels (or similar)
BIKE OPTIONS:
PRICE: $3950/person (sharing double room)
Single Supplement: $585
Up to $200.00 Group Discount may be available
GROUP: Minimum 10 Travelers, Maximum 15 Travelers = Full Group (Discount may apply)
AGE REQUIREMENT: 18 – 80 years old
We will be following all COVID-19 protocols/precautions and staying in accommodations certified "Clean and Safe" (issued by the Portuguese National Tourism Authority)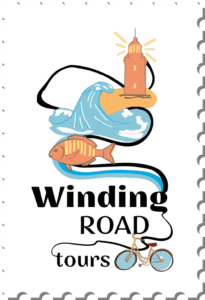 Included
12 days
11 nights at 3 – 4 Star accommodations (or similar)
11 Breakfasts at the hotel and 9 lunches on every Cycling Tour (depending on weather or location, it will be at a restaurant or a picnic)
4 Dinners on Days 01, 02, 04, and 11
Alcoholic beverages not included with any tour meals

Standard Group Arrival/Departure Transfers: from Lisbon Airport to 

Setúbal 

on Day 01 and to Faro Airport from Hotel in Monte Gordo on Day 12

Transfers from and to the hotel by Vans, Mini-bus or cars
Luggage transfers (one piece of luggage per person)
English-speaking Guides (entire trip)
24 hour support line
9 Cycling Tours
Aluminum Road Bikes
Bicycle Upgrade: $ 425
Upgrade to E-Bike: $ 300
GPS tracks and mobile apps guide notes ("Ride with GPS" on your phone); Maps/documentation
Excluded
Flight, train rides, museum fees, other not specified in included.
Description
This tour takes place within two protected areas along the coast from Alentejo to Algarve, meandering through authentic fishing villages along the sea. Imagine yourself riding by some of the most beautiful and well-preserved beaches in Europe. Now add the feeling of adventure when discovering pirate hideouts, a rich culture and a cuisine that serves the best the sea has to offer. The coast, characterized by turquoise waters, rugged rocks and stratified cliff faces buffeted by coastal winds for centuries, is perfect for exciting cycling!
The southwestern Portuguese coast has the distinction of being one of the least developed and best-preserved coastlines in Europe. The protected area of the Southwestern Alentejan and Vicentine Coast Natural Park (Parque Natural do Sudoeste Alentejano e Costa Vicentina), basically runs from south of Lisbon to Sagres Point in the Algarve. We will also discover the Ria Formosa Natural Park that stretches from Faro Beach to Carcela Velha in the Algarve. It is a hotspot in the winter for the migration of European birds. The "natural park" protected area designation is very different from a national park: it allows villages and human habitation within while protecting its natural and cultural patrimony. And stimulating economic well-being for those who live there. The result is a laid-back, beautifully natural coastal experience.
We will discover nine cycling circuits from Grândola (Alentejo) to Vila Real de Santo António (Algarve), roughly 285 miles of largely traffic-free roads. From coastal regions of Alentejo to the Algarvian Mountains, we will discover golden sandy beaches and rugged cliffs. We also should have enough time to explore the numerous fishing villages we encounter along the way.
People have been occupying this territory since Paleolithic times. We will experience ancient Roman ports, medieval castles, tasty meals of fresh fish caught locally and traditional artisanal crafts, sold by villagers.
Other activities on our tour include country picnic lunches, visits to pristine beaches and surfing areas, vistas of lighthouses and the open sea, a visit to the ruins of an ancient Islamic fishermen's settlement!
Come join us on this exciting natural adventure for a unique look into the past and the present of a region that has maintained its authenticity for centuries!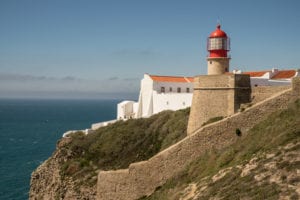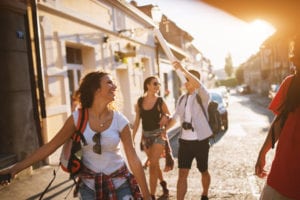 Itinerary
1
DAY ONE: GETTING STARTED
Wednesday, February 23, 2022
Transfer from Lisbon Airport to Setúbal
We will greet you at the Lisbon Airport and transport you to the city of Setúbal.
Lisbon, the capital of Portugal, was built on seven hills above the Tagus river. This hilliness holds a special fascination for travelers who like the relaxed atmosphere of the Barrio Alto (High Quarter), the nightlife zone, where the clubs, restaurants and port bars live adjacent to the old houses of Fado (Portugal's national music genre), contrasting with the Baixa (Low Quarter) is downhill to the commercial district around the train station (Rossio). History seems everywhere, from the Castelo de Sao Jorge to the San Jerónimo Monastery along the Tagus.
When the sun shines, the River Tagus mirrors the sky in its waters and floods the city with light; then you just fall in love. With beautiful scenery, amazing food, sun-bleached buildings and monuments, narrow alleyways, and typical scents spread all over the town, everything feels local. The numerous neighborhoods are at once different but the same – from the bohemian Chiado to the authentic Alfama where Fado was created to Belém where you can taste the delicious custard Pastel de Belém. The city seems cohesive where everything fits together like pieces of a puzzle.
If we have time, we will take a brief windshield tour of various sites as we leave Lisbon for Setúbal.
Overnight in Setúbal
Meals: Lunch or Dinner, depending on arrival
2
DAY TWO: BEGINNING OUR TOUR
Thursday, February 24, 2022
Cycling Route 1: Setúbal   | Santo André (40 mi)
Our journey starts in the city of Setúbal, a city in the foot hills of the Serra da Arrábida and third busiest port in Portugal.  The city lies on a scenic bay at the mouth of the Sado River The port prides itself as being one of the busiest ship building areas in Portugal an is a fishing port, primarily in the canning of sardines in an area that hold 2000 ships.  The area around Setúbal is an important production area for the Portuguese oyster.  The picturesque Old quarter is characterized by its narrow streets and historic setting.  Take some time to visit its Manueline monastery, its churches, acclaimed market and museums.  The fortress that overlooks the bay has been partially converted into one of Portugal's most beautiful inns (pousadas).
Your first day on the road begins with a ferry crossing through the Sado Estuary Natural Reserve, a lovely ride where you can often see dolphins and multiple bird species. You will disembark at the Troia Peninsula, with an idyllic landscape view of the Serra da Arrábida.  You will then cycle through Comporta, observing plentiful rice fields along the way.
We will be crossing the beautiful beach of Melides, composed of a long stretch of sand that separates the sea and Melides Lagoon. Our ride continues into the Natural Reserve of the Lagoons of Santo André and Santa Sancha, a Portuguese protected area of great ornithological, botanical and ecological importance. The Costa de Santo André Beach is a long stretch of sand with the Atlantic Ocean on one side and the calm waters of the Santo André lagoon on the other. Surrounded by golden sand dunes, this beach with its challenging waters, is very popular with surfers.
Overnight in Santo André
Meals: Breakfast, Lunch at Restaurant or Picnic, Dinner
3
DAY THREE: GETTING TO KNOW THE SOUTHERN COAST
Friday, February 25, 2022
Cycling Route 2: Santo André | Vila Nova de Mil Fontes (32 mi)
This is a day to purify our souls, thanks to the magnificent views of the Atlantic Ocean. We will ride until Sines, the hometown of the great explorer, Vasco de Gama.  We will have the opportunity to experience the Castle of Sines in the Old Town and a few miles later, the São Torpes beach, one of the best for surfing along the southern Portuguese coastline. A number of schools are found here for those wishing to learn this sport. Enjoy your ride as we approach Porto Covo, a picturesque fishermen's village. Our day will end in the picturesque village of Vila Nova de Mil Fontes, a pleasant town situated at the mouth of the River Mira.
Overnight in Vila Nova de Milfontes
Meals: Breakfast, Lunch at Restaurant or Picnic
4
DAY FOUR: ENTERING THE ALGARVE
Saturday, February 26, 2022
Cycling Route 3: Vila Nova de Mil Fontes | Rogil (35 mi)
Today we continue south along the coast, passing towns, such as Longueira and the Village of Almograve. The beach, adjacent to the peaceful town of Almograve, is perfect for an unhurried, repast. To the south, lies the Sardão Cape, an untouched environment of great natural beauty offering up stunning views out over the jagged coastline and inaccessible beaches.
During this segment of our tour with its salty and windy countenance, you can find nesting sites for over twenty species of birds! Around the Cape Sardão, keep a sharp lookout for these flocks, especially the Rock Doves, ancient parents of the common pigeon. Also, look for the Cabo Sardão lighthouse.
Stork nests will be easy to see as will be the body surfing at Zambujeira do Mar Beach, a cozy and beautiful beach. On a strip of land that separates the Atlantic Ocean from the Alentejo plains, we will find the village of Zambujeira do Mar. Zambujeira do Mar, a small peaceful fishing village where high dark basalt cliffs are contrasted with the white brightness of its superb beach, makes this sight memorable. Before ending our pedal, we´ll cross Carvalhal Beach and the village of Odeceixe before arriving at the village of Rogil.
Overnight in Rogil
Meals: Breakfast, Lunch at Restaurant or Picnic, Dinner
5
DAY FIVE: SAGRES, EUROPE'S SOUTHWESTERN MOST POINT
Sunday, February 27, 2022
Cycling Route 4: Rogil | Vila do Bispo | Sagres (40 mi)
A great day of riding on the Rota Vicentina that combines very different landscapes: the mountains in the interior and the cliffs and the wild beaches when you reach the Atlantic Ocean. Pedal through several special places that will mesmerize you: Amoreira Beach, the villages of Aljezur and Bordeira, and Amado Beach at Carrapateira.
Aljezur is a charming market town on a narrow river and is overlooked by the ruins of a 10th century castle near its old quarter. The town clearly has Moorish origins shown in its character. Carrapateira is a delight for vacationers, surfers, hikers, fishermen, mollusk hunters, and scientists. Nature is abundant here and you may also see osprey and river otters. The limestone cliffs, which begin here and continue south, have a different character from the basaltic ones we have seen. We will pass through Vila do Bispo, crossroads between Alentejo, the Algarve and Sagres.
Three miles away from Sagres, lies Europe's southwestern most point: Cape St. Vincent (Cabo de São Vicente), the last point of home Portuguese sailors once looked at as they launched into the unknown. Exploring this barren headland will definitely make you think about past voyages!
Overnight in Sagres
Meals: Breakfast, Lunch at Restaurant or Picnic
6
DAY SIX: FREE DAY IN SAGRES
Monday, February 28, 2022
Enjoy your free day with some optional activities this city has to offer, such as surfing, boat trips for dolphin watching, among many others. You are on your own but we can help with the arrangements!
Sagres is the alleged location of Henry the Navigator's Fortress, School of Navigation and shipyard; it is also where he planned his strategy to "attempt the discovery of things hidden from men." He did so from 1419 – 1460. The school is no more but the giant pebble Wind Compass (Rosa dos Ventos), that he supposedly used, still remains.
Overnight in Sagres
Meal: Breakfast
7
DAY SEVEN: DISCOVERING LAGOS
Tuesday, March 1, 2022
Cycling Route 5: Sagres | Lagos (28 mi)
We leave Sagres, cycling along the most famous beaches of the western Algarve coastline. The crystal clear waters guide us along the coast to Lagos, a vibrant fishing town. Lagos is set on a large bay and still bustles. The Moors, who left behind a fortification in the 8th century, flavored the architecture of the town.
Once the capital of the Algarve, Lagos has a deplorable past as the site of Europe's first slave market in 1441. Lagos was the safest harbor for anchorage for ships coming in from the Atlantic and African voyages. In the present day, the "current" 17th century fort still juts out into sea and the beauty of this place encourages us to explore more! The 18th century church of Santo António is a gem, covered in classic blue and white Portuguese azulejos, painted woodwork and Baroque carvings.
Also, don't miss the beautiful cliff formations of Ponta da Piedade, chiseled by the Atlantic Ocean. Relax and enjoy some time at Meia- Praia or Praia Dona Ana Beach.
Overnight in Lagos
Meals: Breakfast, Lunch at Restaurant or Picnic
8
DAY EIGHT: INTO THE COUNTRYSIDE
Wednesday, March 2, 2022
Cycling Route 6: Lagos | Armação de Pêra (32 mi)
We will travel today through the quiet countryside, along pleasant country lanes to the coast. We highlight the Salgados Lagoon, inhabited by more than 160 bird species throughout the year, where we should see a variety of birdlife. We will continue on boardwalks as we go east, with delightful views down to some great beaches.
Once in Armação de Pêra, you will fall in love with this old fishing village.
Overnight in Armação de Pêra
Meals: Breakfast, Lunch at Restaurant or Picnic
9
DAY NINE: THROUGH TOURISTIC ALGARVE
Thursday, March 3, 2022
Cycling Route 7: Armação de Pêra | Albufeira | Vilamoura | Faro (42 mi)
The tour today will take us by some of the most developed golf courses of the Algarve. Albufeira has become the tourist capital of Algarve. We will pass by prestigious golf resorts and Vilamoura with its marina full of luxury yachts and a good selection of cafes, bars, and restaurants.
We terminate our tour today in Faro, the capital of Algarve since 1756. We may have time to explore the Center of Faro, a small area packed with interesting historic architecture, harbor, shops, fish restaurants and museums.
Ride the charming cobblestone streets and ride through the Arco da Vila, entrance to historic Vila Adentro. Adjacent to the Center, the walled Old Quarter (Vila Adentro) is an easy walk from the harbor. The Old Quarter is filled with history, reflected in its archways, narrow tiled streets, Cathedral and Bell Tower, plazas, pocket parks and classic tiled scenes (azulejos).
The Romans called Faro "Ossónoba", developing it into an important port. The Romans left large floor mosaics, shown in the Municipal Museum. In 1249, the King of Portugal defeated the Moors and Faro continued to be an important city. In the evening, there may be time to hear Portgual's national music genre, Fado, at a local restaurant.
Overnight in Faro
Meals: Breakfast, Lunch at Restaurant or Picnic
10
DAY TEN: INTO NATURE AGAIN
Friday, March 4, 2022
Cycling Route 8: Faro | Tavira (28 mi)
Leaving Faro, we will cycle through unspoiled coastal countryside and quaint fishing villages of the Algarvian coast to our next destination, Tavira. We will ride through Ria Formosa Natural Park, created in 1987 to protect its ecosystem from the harmful impacts of quickly rising tourism. It stretches 37 miles from Faro Beach to Cacela Velha.  This park, in the heart of the Algarve between the land and sea, is one of the Seven Natural Wonders of Portugal and one of Portugal's important areas for aquatic birds.
The Ria Formosa estuary is protected from the sea by a system of barrier islands; inlets between the islands allow the tides to ebb and flow into the lagoon. It is home to a high density of protected biodiversity (fauna and flora) and is an important stop for migratory birds on the East Atlantic migratory flyway. It hosts 20,000+ birds during the winter. The five most important birds of the area are: Purple Gallinule (Porphyrio martinicus), Cattle Egret (Bubulcus ibis), Red-Crested Pochard (Netta rufina), Purple Heron (Ardea purpurea), Kentish Plover (Charadrius alexandrinus).
Visitors to the estuary and beaches also generate important local tourist income. These waters are also rich in shellfish, such as oysters, cockles and clams, which provide 80% of the shellfish exports.
The last stop of the day is Tavira, a town sometimes called the "Venice of the Algarve" since the town straddles the River Gilão, where its riverbanks are lined with gardens. Rich in history and dating to Moorish times, we will find Roman bridges, Renaissance churches, the Moorish castle (Castelo dos Mouros), and the cemetery of the Gothic Church of Saint Mary of the Castle (Igreja da Santa Maria do Castelo), where seven of the Knights of the Order of St. James are still buried. City views from the Moorish castle are the best in town! Tavira is a center for local artisans and crafts as well where they sell their products along the river and in the old quarter.
Overnight in Tavira
Meals: Breakfast, Lunch at Restaurant or Picnic
11
DAY ELEVEN: WINDING DOWN
Saturday, March 5, 2022
Cycling Route 9: Tavira | Monte Gordo | Vila Real de Santo António (26 mi)
We enjoy this last day with an easy-rolling route through the villages of Cabanas and Cacela Velha, where a stop is recommended to admire one of the best views of Ria Formosa. Carcela Velha is a hilltown perched on the top of a cliff that was once a defensive location on the coast. It is a peaceful village, largely untouched by modern tourism. The Moors and Phoenicians frequented this protected site until the Spanish Knights of St. James took it over in 1240.
Before you reach your last stop, take some time to savor Praia Verde, a lovely beach surrounded by delightful green scenery of trees and shrubs, that line the land side of the broad, endless beach. The journey ends at Vila Real de Santo António on the Spanish border.
Vila Real de Santo António looks a little like a smaller version of Lisbon's "Lower Neighborhood", the Baixa, since the Marquês of Pombal laid out both areas after the 1755 earthquake. Today, this town is one of the most important fishing ports on the Algarve coast and the Spanish market just across the border.
Overnight in Monte Gordo
Meals: Breakfast, Lunch at Restaurant or Picnic, Farewell Dinner
12
DAY TWELVE: ONWARD JOURNEY
Sunday, March 6, 2022
Morning Transfer from Monte Gordo to Faro Airport
Meal: Breakfast
At the designated time, we'll take you to the Faro Airport by private car/van.