Portugal Overview
North Portugal
Central Portugal
Alentejo
Algarve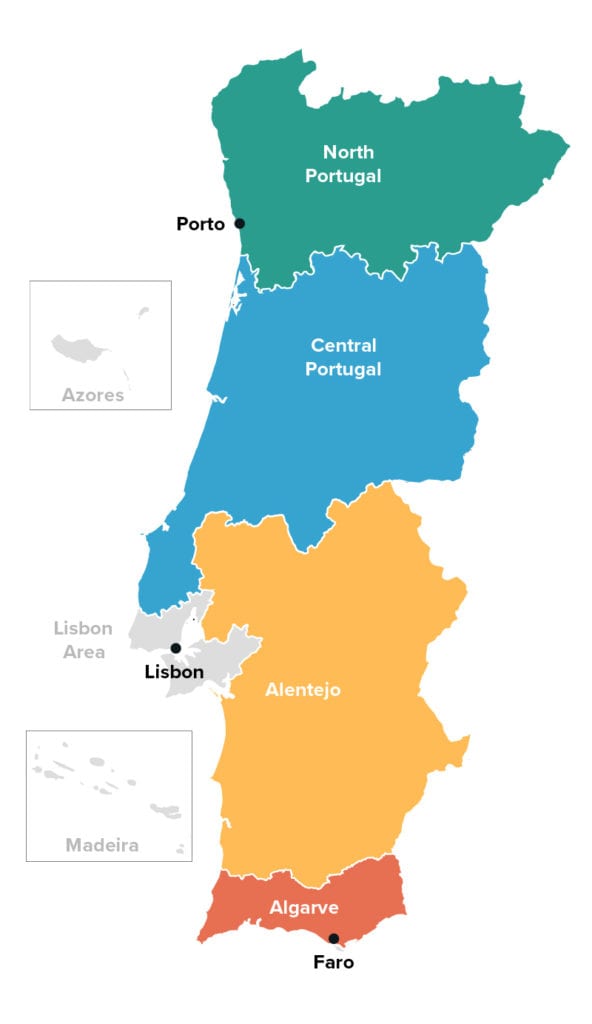 Portugal Overview
In the southwest corner of Europe lies Portugal, one fifth of the Iberian Peninsula that it shares with Spain. Portugal has its own language, Portuguese, (the sixth most spoken in the world including Brazil, Portugal's former colony), its own culture and cuisine. Portugal's shape is rectangular, about the size of Florida' the longest north-south distance is 349 miles and widest east-west distance is 135 miles.
Portugal is divided into seven regions, each offers unique features, history, scenery and cuisine. The regions are from south to north; Algarve, Alentejo, Lisbon area, Central, North and Portugal's two island groups: the Azores (800 miles southwest of Lisbon) and Madeira (600 miles south of Lisbon). Our tours are located in four of Portugal's seven regions: Northern Portugal, Central Portugal, Alentejo, Algarve.
Portugal In Brief
Location: Western Iberian Peninsula, Europe
Capital: Lisbon (Metropolitan Area Population: 2.96m – 2020)
Population: 10.3 Million (2019)
Currency: Euro
Religion: 81% Catholic, 19% Other
Driving: Right Side of Road
Regions: Northern Portugal, Central Portugal, Lisbon Area, Alentejo, Algarve, Madeira, Azores
Climate
Cuisine
Wine
History & Geography
Climate
Portugal's Mediterranean climate is the envy of Europe. The southern regions are dry and sunny with warm/hot summers and mild/rainy winters. Traveling north, the weather is cooler and wetter, especially in winter. Snow is possible in the northeastern mountains.
Cuisine
With a coastline of 586 miles, it's unsurprising that seafood is plentiful in Portuguese cuisine. It's said that there is a cod dish, dried and fresh, for each day of the year. Regional specialties abound. In the Algarve, Cataplana, a fish and shellfish dish named for the cookware used, is a treat. Caldeirada, a fish stew with potatoes, is also popular. An unusual combination hailing from the Alentejo is a combination of pork and clams. Lisbon offers a range of cosmopolitan restaurants but you may wish to try Frango Piri-Piri (chicken with chili) and be sure to indulge in a local pastry, Pasteis de Nata, delicious custard-cream tarts. In the north, Feijoada, a stew of beans and cured meats, is popular. We recommend dining in local restaurants to experience true Portugal cuisine.
Wine
Portugal is home to the first demarcated wine region in the world: the upper Douro Valley where Port wine grapes are grown along the Douro river in terraces cascading down the steep slopes. Port, Portugal's most famous wine, originated in the 17th century when British merchants added brandy to wine to prevent it from souring in transit. Today it's appreciated worldwide. Port grapes are harvested and transported to Vila Nova de Gaia, across the Douro river from Porto. Here they are aged and bottled. Many of the Port Wine houses are open for tours and tasting. Portuguese wine is much more than its famous Port. Grapes of many varieties are grown throughout Portugal. The wines from the Dao region are among the finest reds.
The white wines of the region north of Porto feature the delightful Vinho Verde, light, refreshing and slightly effervescent. In the south of the country, the wines of the Alentejo are gaining notice for their excellence."
History & Geography
Portugal is one of the oldest nations in Europe, establishing its continental frontier we know today in 1297. Portugal has been an independent kingdom since 1143 when first Portuguese king Dom Afonso Henriques rebelled against his mother, Dona Teresa of Portugal Countess of Portugal.
Its geographic location along the Atlantic coastline is the reason why Portugal quickly became an ocean-faring country, setting the stage for centuries of sea adventure and the age of Discoveries, starting with Prince Henry the Navigator in 1415.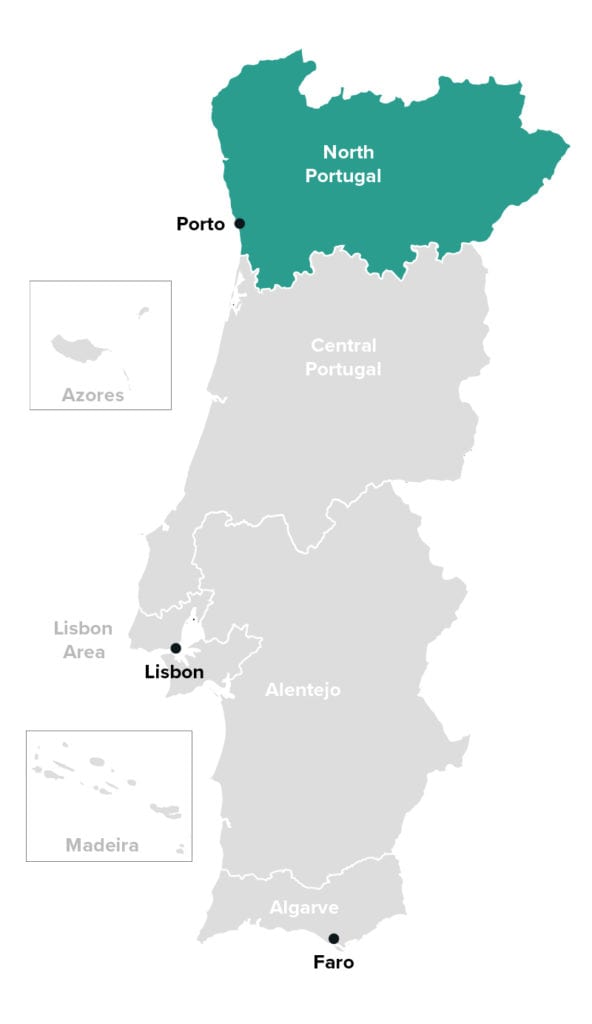 North Portugal
The North is comprised as several provinces: the Douro Region, North East Region of Tras-os-Montes, and the Coastal Region of Minho. Our tour in the north will visit Porto and the Minho Region, and the Douro Valley.
The Douro river is the longest in northern Portugal and winds its sinuous way past mountains and cliffs until it reaches the Atlantic near the city of Porto, whose historic center is a UNESCO site. Due to a series of dams, the river has been made navigable and cruise boats depart from Porto to the Douro region. Along the Douro River, terraced vineyards line the valley and produce the grapes for the famous Port wine. This region is also famous for important sites seen nowhere else in the world. Signs of prehistoric men are seen in the ancient cave paintings in Vila Nova de Foz Coa. Elsewhere, medieval castles and convents or Romanesque little churches dot the landscape. History, too, is evoked by the manor houses, such as the Baroque mansion at Mateus, near Vila Real or in the great 17th century sanctuaries, such as Nossa Senhora dos Remedios in Lamego, which play such a important role in people's devotions.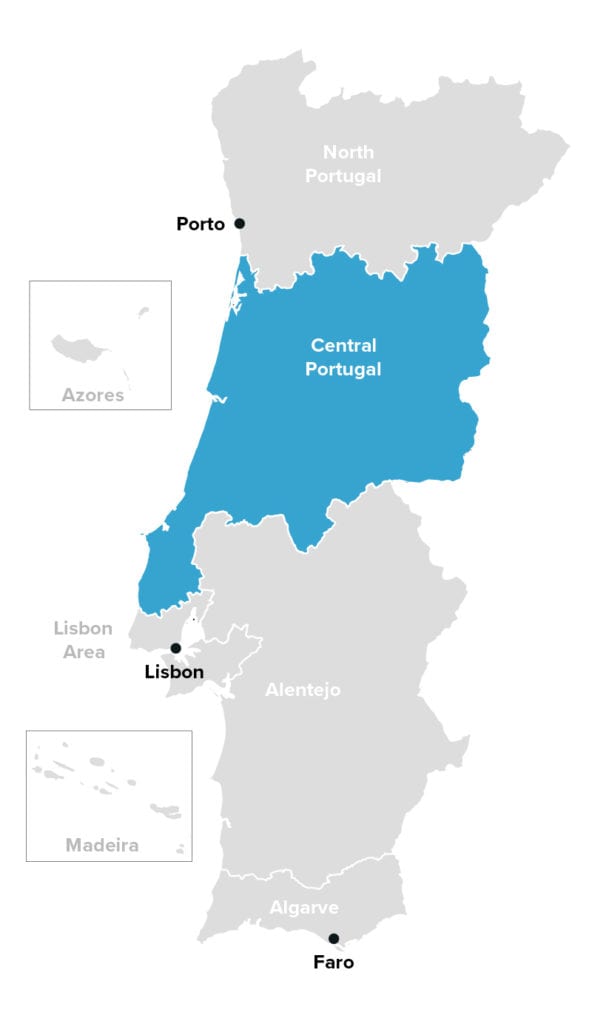 Central Portugal
The region is one of deep contrasts: the Atlantic coastline, where a temperate climate, white sandy beaches and the Atlantic pine forests are typical, and the interior where more forbidding mountains and rocks dominate the landscape.
In the heart of this hinterland rises the Estrela Mountain Range (Serra da Estrela), the highest elevations in continental Portugal. Nature has blessed this region with healing waters of spa towns, ancient forests on mountain slopes that preserve intact the treasures of nature.
Monasteries, convents, castles and churches are witness to an artistic and historical heritage whose merits and heritage value UNESCO has recognized.
Regional museum collections reveal treasures of unexpected quality; coastal arts and crafts have been rich in glass-working and ceramic skills, while inland artisans have traditionally worked with black clay, linen weaving and iron.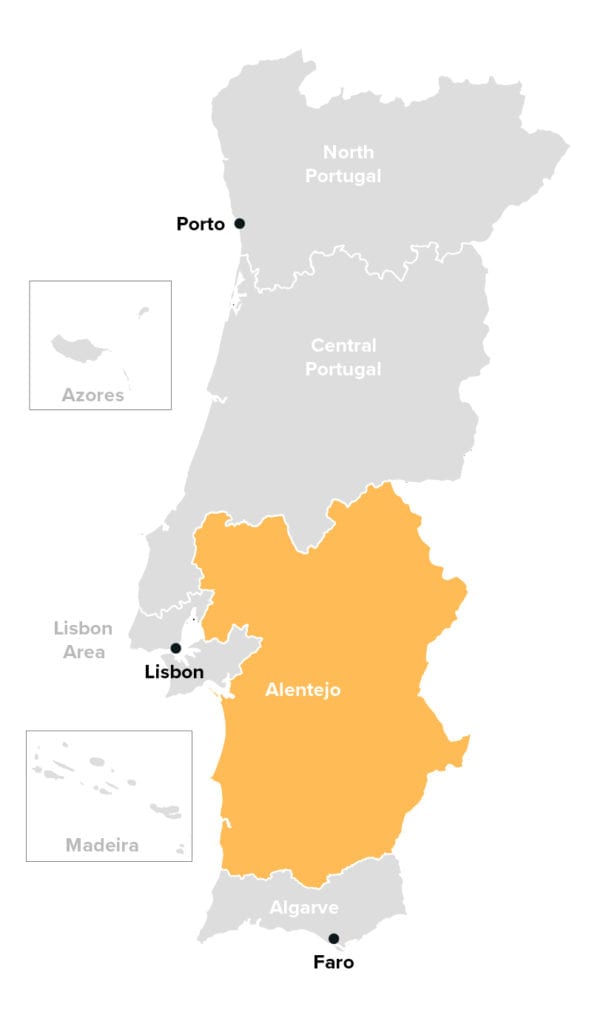 Alentejo
Alentejo surprises with its remarkable traces of successive cultures: dolmens and cromlechs, Roman and Arab vestiges mingling with Christianity, exemplified by the medieval castles that stand out in the vast plain.
The northeast showcases the beautiful villages and towns that comprise Route of the Castles (Rota dos Castelos): Castelo de Vide, Marvão, Portalegre, and Alter do Chão. Further south the landscape becomes warmer and flatter; surrounding Évora, a beautiful UNESCO town, are Monsaraz, Vila Viçosa, Estremoz, and Arraiolos, renowned for its handmade traditional 17-18th century design tapestries. Driving south, the vast plains become less inhabited and sunnier, shaded by olive trees and oak trees, and a cooling lake created by a refreshing reservoir. As the region with great temperature fluctuation, from 5˚C to 33˚C, Alentejo is sparsely populated with wide horizons, where the rhythm of life follows the laid back sounds of regional songs.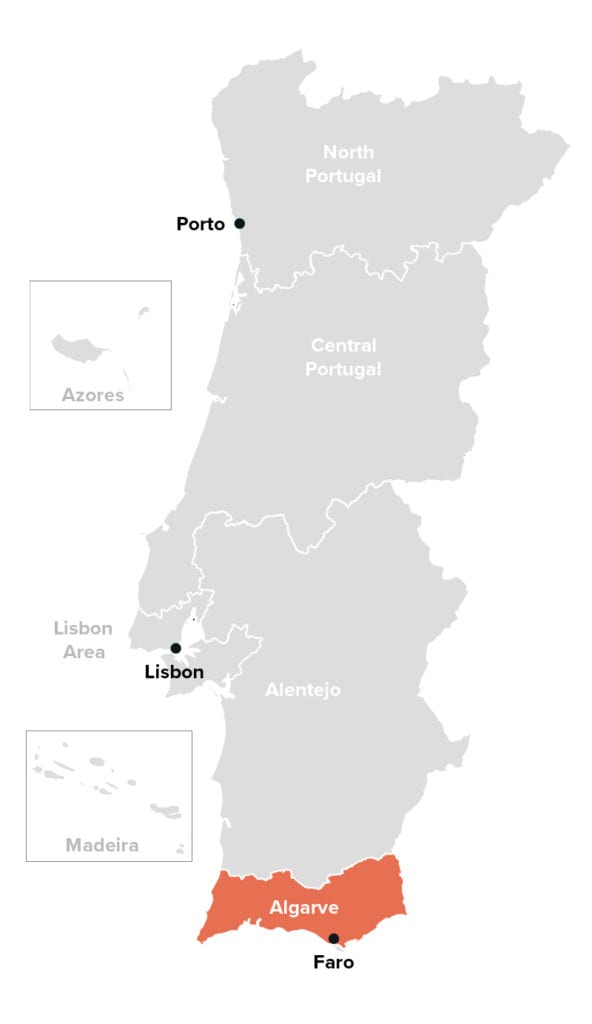 Algarve
The daunting trip to Portugal's Algarve so difficult to make in the 13th century is no longer an obstacle thanks to the modern coastal highway and the Faro International Airport. This charming region, with its perfect climate (average winter temperature is 53˚-57˚F and 75˚-86˚ F in summer) for playing golf and a day at the beach.
In the northern part of the Algarve, the ranges of Espinhaco de Cao, Monchique, and Caldeirao shelter the coast from strong winds. This brightly colored region with its fig trees, orange groves, and almond trees in blossom, is also the most verdant and fertile. The southern coastline consists of a long stretch of fabulous sandy beaches, broken up by extraordinary rugged red cliffs and fantastic grottoes.
Apart from up-scale water sports facilities, including the marinas of Vilamoura and Lagos with excellent harbors, there are also tennis courts, famous golf courses, luxury hotels, quaint holiday resorts and exciting nightlife.
Discover Our Tours